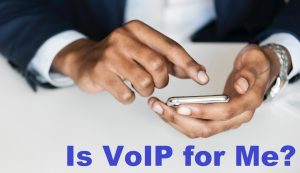 You tell yourself, I already have a phone services that seems to be working well. The bills are bearable. I don't need VoIP – it's just another phone service…right? WRONG!
VoIP is so much more than just a phone service! For less than the price of your typical phone service, VoIP offers more options and coverage:
Faxing services online
Video Conferencing
Inexpensive Calling (Internationally or locally)
Bilingual IVRs
Tablet, Computer, & Cell phone Compatible
Ability to record calls
Email and text notification for voicemail
No cost extension-to-extension dialing (abroad and domestic)
Now who would really benefit from using VoIP? These are just a few examples that I have put together to give you different circumstances:
Travel AgencyTypically travel agencies travel a little farther than just the state their office is located. Instead, they go all over the country and even the world. With VoIPster, we are able to put together a plan to benefit you and your clients. We can offer you and your clients to
call internationally for a fraction of what they normally pay. Video chats included. You can offer this as a package in your sales. Plus, if you have offices anywhere else in the state, country, or globe, calling extension to extension is FREE!!
Kids Away at College/ Moved from out of the Country
Your kids have grown up and on their way to adulthood. They are living in a dorm room or small apartment away from home. If both of you have VoIP phones, you can set up service to call each other for no extra charge. No matter where they are in the world. If you move the phone it is no extra charge. They moved up from a dorm to an apartments, or apartment to a house, the price is never going to go up. Now your kids will always have a way to contact you.
Not to mention, service can be set up for video chats and calling from your computer. Wherever you, your phone, computer, tablet, etc., you and your kids can keep in contact!
International businesses
If you are still paying for a normal phone service and doing international business, you need to change now. VoIP offers international calling at lower prices, video conferencing, faxing from your computer, and free extension to extension. Not to mention bilingual IVRs. If you need a customer to have a phone menu in
Spanish or Japanese this is an easy set up.
VoIP is set up to help you in all your communication needs – completely customized packages! Just let us know what you need, and we will make communication easy, proficient, and professional.
Traveling Employees/Small Business
Like many business owners, much of our business is done away from the office. Either we are traveling 100s of miles, or driving all over the city meeting clients and venders. Yet, when talking to clients, a cell phone doesn't sounds as professional.
VoIP can offer you that professional edge. You can keep your VoIP phone at your office, or home while you are traveling with your professional IVRs. You can either have the call transferred to your cell automatically or have a text/email notification sent instantly to your cell phone. With this notification you can choose to call back from your cell phone still using the business phone number.
VoIP really does give the professional edge to small business to help them grow and keep old customers coming back.
Although this does not even cover a fraction of the people who benefit from VoIP, it gives you some ideas to apply to your business. If you have any questions, feel free to message or call VoIPster communications. We are here for all your communication needs!