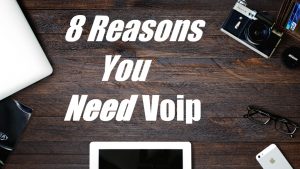 8 Reasons you NEED VoIP
VoIP is about to change your communication forever. Hold tight you are about to learn 8 reasons you need to switch to VoIP today. For more on the breakdown of what VoIP is and how it works click here.
Faxing Service Online
Less and less people are beginning to have fax machines at their office. I'm not sure of anyone who would keep one in their car driving around town or traveling on business. With VoIP, faxing is available online and through your email. Everything is available from your computer, phone, tablet, or anywhere you can access your email. You can take a picture of a document from your phone, or scan into your computer, and simply send it to a fax number online. Wah-la. Time, money and sanity saved. Check.
Video Conferencing
Although the benefits for an international business may be more obvious. It saves time, traveling, money, sleep, just by being able to log into your internet and hold a conference with everyone instantly. It doesn't matter where they are in the world, you can easily make a sale from your home or office.
What about for a small business or even single person. Video chat makes everything more personably. Plus, I know how much you want to keep in touch with your in-laws across the pond. In addition, video conferencing opens new doors for you to expand your small business. For more on small business and VoIP click here.
Inexpensive Calling
VoIP doesn't include just the extra services on top of your current phone bill, instead VoIP IS a phone service. Completely through your internet. Whether you need to call your neighbor for milk and sugar or across the world to make a sale, calling is going to be cheap!
Bilingual IVRs
One of the best things about VoIP, is whether you are 1 person business or a fortune 500, you are going to sound more professional before your potential client even talks to you. They hear your personal, prerecorded message while waiting for you to answer the phone. Going even further, with bilingual IVRs, clients can choose if they need another language. You're not having to transfer customers 2 or 3 times to find out where they need to go. By this time, you are already losing sales and customer service.
Compatibility
All of these services and benefits are available wherever you go. Tablets, computers, phones, cell phones. Anywhere you have data or internet you have our service. Plus, if you need to leave your desk, you can have all your calls transferred to your cellphone automatically.
Recording calls
Training employees can be hard to do, especially if you aren't in the office with them 100%. VoIP allows you to record calls. You and your employees can listen to these calls later, allowing training to become easier, find repeating problems, and keep customers coming back.
Email and text notification for voicemail
VoIP allows you to send email and text notifications to your voicemail. You are not going to miss another client again!
Finally, number 8. No cost for extension-to-extension dialing
This is a big one. Let's say we have an office here in our wonderful city of Louisville, KY, yet over the years we have expanded to California, China, and the UK. Or maybe your kids are away at college across the states. Why are you going to pay more money for long distance calling?? With VoIP services, you can call their extensions for NO EXTRA CHARGE. Many of the phone calls we make as a business are to our employees, mangers, and admins, why would you want to pay more?
All together if you have two or more phones under the same service, you can call without any cost or fees.
This sums up the top 8 reasons VoIP is going to change your communication system. Let me tell you from experience, this is just the beginning.
For any more questions, email me at support@voipster.org.
Let us know how VoIP has changed your business!